A law graduate has shown no shame as she took to social media to cry out that she urgently needs a job.
The graduate of University of Ibadan identified as Zainab Aderonke Adeyemo said she resorted to this after unsuccessfully searching for a job.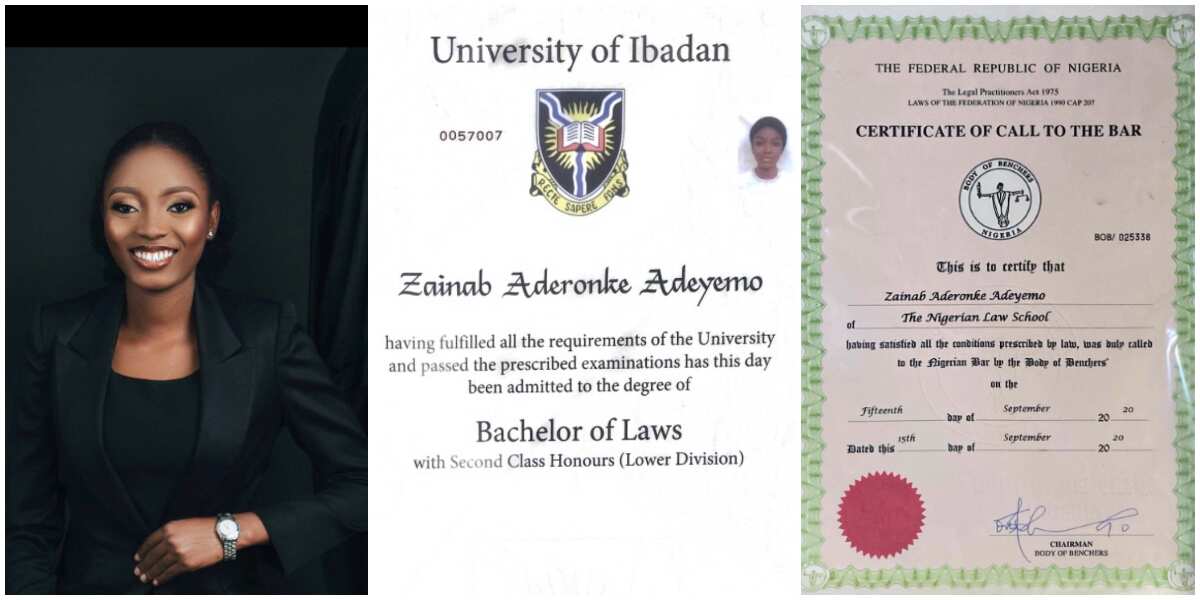 Zainab stated that she is open to working in either a law firm, insurance company or financial institution and doesn't mind relocating for that purpose.
A desperate law graduate has taken to social media to publicly appeal that she needs help with getting a job, Siggy.ng reveals.
Zainab Aderonke Adeyemo shared on her LinkedIn wall snaps of her university degree and call to bar certificate.
Reactions as desperate female law graduate begs for job on social media, shares her academic qualifications.
According to Zainab, she is interested in openings at law firms, financial institutions and insurance companies.
The second class lower graduate from University of Ibadan added that she was willing to relocate if the job demanded so.
Why she resorted to job-hunting on social media, Zainab explained that she had sent numerous mails to employers with no success.
The lady who completed her NYSC in February 2021 said that the employers would cite her grade or inadequate work experience as reasons for not giving her a job.
🔥
𝑫𝒐 𝒏𝒐𝒕 𝒎𝒊𝒔𝒔 𝒐𝒖𝒕 𝒐𝒏 𝒐𝒖𝒓 𝒅𝒂𝒊𝒍𝒚 𝒆𝒙𝒄𝒍𝒖𝒔𝒊𝒗𝒆 𝒄𝒐𝒏𝒕𝒆𝒏𝒕𝒔
🔥
Like our Facebook Page
Join our Telegram Channel
Follow Us on Twitter
Follow Us on Instagram
Join our WhatsApp Group
Subscribe to our YouTube Channel
Receive FREE Daily Updates via Email
𝑻𝒉𝒂𝒏𝒌 𝒚𝒐𝒖 𝒗𝒆𝒓𝒚 𝒎𝒖𝒄𝒉!